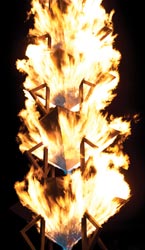 Workdays see the chief inspector of the Nevada LP-Gas Board traveling in his service vehicle surveying LPG systems, containers, and equipment and conducting safety and training programs to fulfill the board's mission—to protect the health, welfare, and safety of Silver State residents. Other occasions have Eric Smith cruising his 35-foot RV-converted 1998 International school bus, Clarice, through the remote and inhospitable Black Rock Desert to a temporary, once-a-year metropolis known as Black Rock City—population upward of 70,000. The yellow bus, with PROPANIAC festooning its signage, is equipped with a propane fridge for guaranteed wintry-temp beverages in the 107-degree desert.
Black Rock City, the ephemeral crossroads near Gerlach, Nev., a census-designated place (population 210) in Washoe County, annually transforms itself for Burning Man, a fiery, conflagrant "exercise in radical self-reliance" and where on Saturday night The Man is burned.
The isolated location is bracketed by the former mining town of Empire, which technically no longer exists, having reportedly been wiped out in 2011 when its sole remaining factory, the U.S. Gypsum Sheetrock plant, closed. Another town, Nixon, lies 60 miles to the south on reservation land owned by the Lake Paiute Tribe.
And while vacation advice from Disneyland, Walt Disney World Resort, and Six Flags offers suffused specifics about family ticket prices, pass programs, places to stay, and things to do, the Burning Man music and arts festival provides a survival guide.
Smith, a 23-year propane industry veteran and fire service volunteer, for the past 10 years has served on the Fire Art Safety Team (FAST) at Burning Man. The NFPA 58 Technical Committee member is also co-owner of ESSA Flame Effects LLC, a manufacturer and operator of custom flame effects. In addition, he has spent the past eight years conducting flame effects seminars for fire artists.
He is co-creator with Steve Akins of the "Spire of Fire," a 48-ft-tall sculpture that incorporates five propane flame effects to entertain the public. "Spire of Fire" has been featured at Burning Man; at Artown in Reno, Nev.; the Beyond Wonderland festival in California; and the Electric Daisy Carnival (EDC) in New York and Las Vegas. Take a look at www.spireoffire.com for photos and information.
"At the EDC in New York we had two 1000-gallon ASME containers and a Ransome 200-gph vaporizer temporarily installed to supply the three gallons of propane per minute the 'Spire of Fire' consumes while operating," notes Smith, who has been the chief inspector for the Nevada LP-Gas Board for 11 years. "At the EDC in Las Vegas, we estimate we consumed about 4800 gallons of propane over the three-day event to entertain the 300,000 guests."
There were also several other artists that displayed propane flame effects in Las Vegas, among them Duane Flatmo's "El Pulpo Mecanico" and the Flaming Lotus Girls' "Serpent Mother." They're on YouTube.
"Spire of Fire's" challenging traverse from Nevada to the East Coast for the Electric Daisy Carnival was documented on the A&E television series "Shipping Wars," which follows six independent shippers making a living transporting loads traditional carriers won't touch, this after bidding on uShip, an online marketplace for independent truckers.
The bid in the episode "Planes, Pains, and a Spire of Flames" was won by Seattle-based Marc Springer, owner of Snortin' Boar Transport, who hauled the fire sculpture on his 18-wheel big rig. The shipment, which included several eight-by-eight-foot sections, the tallest at nine-feet, six inches, and a vaporizer, all weighing in at 7000 pounds, traveled 2700 miles in five days for a winning proffer of $6200. This followed a little creative editing to heighten the show's drama, according to Smith. After all, "Spire of Fire" was designed and built to be moved from place to place.
He comments that while "propane has something for everyone, I have been intentionally steering myself toward the 'funner' side of things." That funner side has taken him across the country, not only to New York, but also Detroit, Seattle, San Francisco, across the border to Toronto, and most recently to New Orleans to host flame effects training for other established and aspiring fire artists.
All seminars are in the interest of promoting safety and industry best practices, with an eye toward incorporating lessons learned into code language, foremost NFPA 160, Standard for Flame Effects Before an Audience, which Smith describes as currently being a slim volume. In addition, NFPA 54 is in his sights. His propaniac.com website outlines his goals and services for the propane flame effects entertainment community under the heading, Words to Live By: Do Not Set Self on Fire.
Another area of interest is his girlfriend's business, Blue Desert Flames. Lynn Gamroth is a northern Nevada metal artist who "was drawn to blue flame by the passion for fire and art" she shares with Smith. Her plasma-cutting skills were self-taught, and each unique sculpture is created freehand and plumbed to "ignite the blue kiss of color" that is her signature. Smith comments that her art is created from scrapped, donated cylinders after the container is vented and the service valve removed. Thereafter, designs are cut to direct and shape fire from the sculptures. Just have a look at bluedesertflames.com.
Burning Man
Meanwhile, back at Black Rock City, or rather, The Playa, as the festival's portion of the 300,000 acres of Black Rock Desert is known, last-minute details are being sorted out for the 2013 event, coming Aug. 26-Sept. 2, which precedes and overlaps the Labor Day weekend. The arid region of playa, or alkali flats, and lava beds, sit 120 miles north of Reno in the Nevada portion of the Great Basin, home to a lakebed that is a dry remnant of Pleistocene Lake Lahontan. And there, this summer, will gather the multitudes, now limited in number by a Bureau of Land Management edict to just about 70,000 free souls onboard—some naked, others clothed.
Plenty of "mutant" vehicles will be in evidence, some even steam-powered, but participants won't be tooling around in golf carts or private cars and trucks -— they're forbidden. Mostly folks motor on The Playa on bicycles, or go bipedal.
The art theme for 2013 is Cargo Cult, which according to organizers is coupled to the experience in Melanesia during World War II. Thousands of American GIs suddenly descended on Oceania, bearing with them unimaginable riches: magical foodstuffs that never spoiled, and inconceivable power sources. Just as abruptly the troops departed, leaving only broken, rusted Jeeps, crumpled beer cans, and the memory of Spam.
To the astonished eyes of the natives, this was a miraculous occurrence, and they yearned for the return of abundance. Accordingly, they built totemic sky-craft in an attempt to summon back these Visitors and their legendary leader, the man the Melanesians called John Frum and around whom they formed a Cargo Cult.
Regardless of the newly imposed and disputed desert-occupancy limitations, fire remains at the heart of Burning Man, a gathering of tens of thousands who dance and drum around fire in ceremonies, with many monumental flames and fire sculptures lighted by propane. Just have a look-see at burningman.com.
Smith will be spending about 20 days in Black Rock City, burning through his vacation time as a vol-unteer, for the 11th year, in his role as the LP-gas guy on the festival's FAST. Colleagues complementing the Fire Art Safety Team include steam safety guys and wood structure guys, among others. Those categories keep expanding along with the art cars and other apparatus and gadget-gear turning up.
He will be driving one of the two bobtails Burning Man owns, making deliveries to installations, as well as dropping off filled cylinders to fuel the infrastructure within the evanescent city, all the while inspecting, approving, pointing out safety issues, or red-tagging installations. What little off time he's afforded will be spent relaxing in Clarice's accommodations—delightful compared to Black Rock City's alkali-dusted outer atmosphere.
DaveX
It all started nearly a dozen years ago when a concerned student in one of Smith's CETP classes offered him a free ticket to Burning Man if he would come out and inspect what was going on. "There were a lot of issues," says Smith. "A lot was being made up on the go." But he adds that his first trip to the festival kindled his interest in fire arts safety and sparked his avocation in fire arts, and he was impressed that organizers wished to make the event safe. That CETP student was DaveX, longtime manager of Burning Man's fire safety team.
DaveX puts it this way: "Always think on a personal level in order to always be safe—for yourself and your friends. Think of how horrible you would feel if you were responsible for a disfiguring injury. On a larger scale, think about how a fire incident could ruin an event and wreck it for all fire performers."
His advice, "Process all applicable standards—proper mechanics and plumbing, trade standards, training, how the device will be used, and even the mental health of the individual. We look all the way down the line to the worst possible scenario and implement contingency plans. Our contingency plans incorporate, 'What is the worst thing that can happen with this device?' Not, 'what we can make up in the middle of your effect.'"
Smith, for his part, quotes DaveX's "Andy Griffith philosophy" in his approach to fire safety at fire arts events. "Barney would always say, 'You can't do that,' and would end up being tied up by the the hillbillies. Andy would show up, break out his guitar, tell a story, have a shot of moonshine, and resolve the issues."
What's certain is that the citizens of Black Rock City will once again depart after a week in the transient desert metropolis, leaving no trace whatsoever that they were ever there. And they will burn, The Man, on Saturday. —John Needham