Thursday, September 13, 2012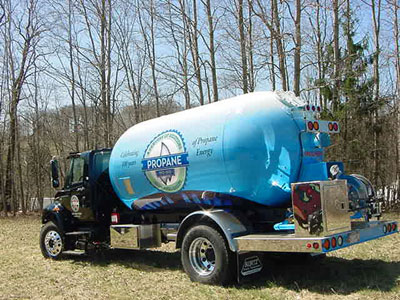 Air-operated hose reels on the back of propane delivery trucks are an emerging trend. Instead of an electric motor, drivers use the air from the air tanks on the truck to power an air motor to rewind the hose reel.
The air-operated reels are among various items that Roger Smith calls "new old" products.
"There's a resurgence of things that started out a few years ago, never really took off, and now all of a sudden they're becoming popular again," said Smith, who is president of the Propane Truck Builders Association (PTBA), which was established in 2007 as an affiliate division of the National Truck Equipment Association and represents propane delivery truck builders nationwide.
Smith, who is vice president of sales and marketing for Kurtz Truck Equipment (Marathon, N.Y.), believes the emergence of "new old" products are a measure of economics. When the economy was at its worst, propane companies focused on the basic requirements for their bobtails and eliminated some options, but those are beginning a comeback, Smith pointed out.
Smith talked to BPN about emerging truck trends in the retail propane industry, from his experience with the PTBA, Kurtz Truck Equipment, and 27 years of experience with a major retail propane marketer.
Air-Operated Hose Reels
His company has sold some of the air-operated hose reels lately, although they involve a bit more work on the part of the installer. Users can order a truck with additional air (storage) tanks or add a tank. Adding a pressure regulator, dryer, and lubricator on the system is also necessary. Smith buys the reels with the air motor from Hannay Reels (Westerlo, N.Y.).
Electric motors tend to be the weak point of the reel, and Smith knows users who go through a motor every year. But the air motors "just about run forever," he said.
"They have been available for years, but few people buy them because they don't know an awful lot about them," he noted, adding that water freezes up the electric motors in cold weather, while the air systems stay dry if the user maintains them properly.
Bobtail Back-up Cameras
Back-up cameras for bobtails "were popular, then kind of went away, and now people are doing them again," Smith stated, calling them "a very in-demand safety item." Truck-building companies can install the cameras as part of the truck build, but marketers could buy and install aftermarket cameras. "You can spend anywhere from $250 to $1000, depending on the quality of the camera," Smith stated. "There are hundreds of brands available out there."
Stainless Steel Bobtail Piping
Bobtail piping is usually the first component that rusts up on bobtails in the snow belt. Smith describes it as the weakest link on the truck. He has seen a move toward stainless steel piping, but it can be expensive. Also, stainless steel piping can be difficult to thread or weld, Smith noted.
84-in.-Diameter Bobtail Tanks
Tank suppliers have been offering 84-in.-diameter bobtail tanks for sale over the past year or so, Smith said, adding that they would be available for 5000 gal. tanks and higher.
"We built a 6000-gal. truck a couple of years ago with an 80-in.-diameter tank because that's what was available then, and that thing was a mile long," Smith noted. "It ended up being a tri-axle because of the length of the thing. We added a lift axle to eliminate weight distribution problems."
He has asked his tank supplier for 95-in.-diameter tanks, which he says are common in Canada. That size isn't seen in the United States because tanks that size are made with quenched steel and are known as QT tanks. Bobtail tanks in the United States from 1000 to 3499 gal. are usually constructed of non-quenched steel (NQT).
"QT is thinner, lighter, stronger and more expensive steel," Smith noted. "In Canada, 6700-gal., 95-in.-diameter QT tanks [bobtails] are very common on tandem chassis."
The increased truck and tank size is another trend Smith has noticed. The primary tank size sold today is 3499 gallons, but it was 3000 gallons not that long ago. The reason is similar to the other trends: Economics. Propane companies are looking to improve driver efficiency, and drivers of the smaller trucks often return to the plant mid-afternoon with an empty tank that needs refilling. By the time they refill, they might have a hour or so left on their shift, not enough time to deliver a second load.
"The theory is simple economics: Put them in a bigger truck and keep them out there delivering to keep the efficiency up," Smith said. He also noted that some of his customers have gone to larger tandem-axle trucks for retail delivery. Some operate large tandems that only deliver to major commercial customers.
"I wouldn't say it's a trend, but some of them are starting to do it," he noted. "In Canada, everyone has a tandem, but that's a different world up there." He added that 6700-gal. tandem bobtails are very common.
Other Trends
He estimates that about 75% of the bobtails on the road today feature automatic transmissions, and that has been a fast-growing trend for about five years. Very fast, in fact. About 10 years ago, Smith estimates 95% of bobtails had manual transmission.
"The reason being is that there are fewer and fewer available truck drivers out there," he stated. "You just can't find people who can drive the 10-speed manual transmissions or 2-speed axles that were common in bobtails."
Smith noted that stainless steel rear decks and fenders are becoming the standard—stainless does not require painting, does not rust like steel, and is stronger than aluminum. —Daryl Lubinsky