By now, it's no secret. Truck driver recruitment and retention are a great concern for propane marketers. Several marketers mention the driver shortage, and hiring problems in general, as the top issue currently facing the propane industry.
"The only way you haven't seen it is if you haven't had to hire a driver," said Chris Earhart of Dixie Gas & Oil Corp. (Verona, Va.).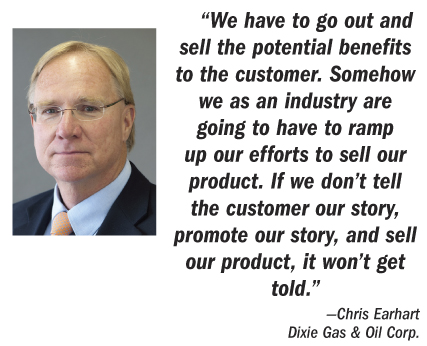 Asked to list the main issues they see in the propane industry and their businesses, propane marketers also mentioned increasing regulations, the supply of propane, and expansion of natural gas into traditional rural propane territory as pressing concerns.
"I think supply, especially dealing with the big swings in demand, is a big issue in the propane industry, and I think the industry needs to deal with it before the industry is looked upon negatively by the public," noted Bryce Ressler of Ressler Propane (Mountville, Pa.).
Several marketers also mentioned natural gas expansion into rural propane territory (BPN June 2016, p. 21) as a top issue they see facing the propane industry. "It is not a level playing field because natural gas can offer incentives to residents to switch to natural gas that the propane industry cannot," said Laurie Irish-Jones of Irish Propane (Buffalo, N.Y.).
Regarding the driver shortage, Earhart mentioned an analysis from the American Trucking Associations (ATA) showing a truck driver shortage of around 48,000 at the end of 2015. If current trends hold, according to ATA, the shortage could explode to almost 175,000 by 2024.
"I look at my bobtail drivers, and most of those guys are close to retirement age," said Jerry Brick of North Star Energy (Aberdeen, S.D.), adding that his company is also a propane transporter, and Brick Transport is seeing a driver shortage there, as well. "I could possibly lose a good share of my workforce to retirement all at once, with very few young fellows coming up from behind. We just don't seem to have the young guys coming up wanting to be truck drivers."
Increased Training Requirements
Several marketers mentioned the increased training requirements that are lengthening the time it takes drivers to obtain their commercial driver's licenses and discouraging them from getting into the propane driving profession. Most North Star Energy drivers have experience in operating farm equipment and just need to take their CDL test when first starting with the company. North Star works with third-party trainers to prepare the drivers for the formal testing.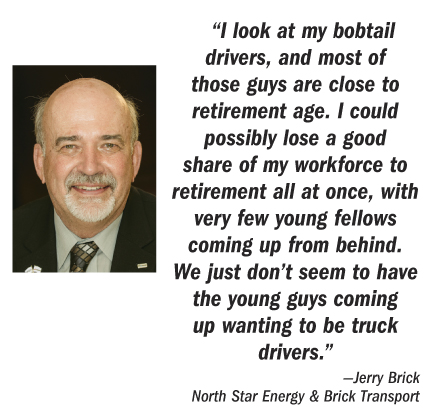 "They don't really need formal behind-the-wheel training; they just need a job," Brick said. "We're getting folks coming to us that already have the driving skills. We just need to help them get the commercial driver's license with hazmat endorsements so they can do the job." Brick is concerned that prospective drivers will decide that the certification process is so cumbersome that they will decide against driving as a profession. "A lot of companies are going to be short of drivers, not just in the propane industry but in the entire truck driving industry across the country. It's something that really concerns me."
John Cadenhead agrees. "In Texas, one of our biggest obstacles is hiring people," said the owner of Cadenhead Servis Gas (Royce City, Texas). Drivers in the state must be licensed by the Railroad Commission of Texas, and some of them have difficulty making it through that process. "You just don't see any younger people getting into this business," Cadenhead stated. "That's not good for the industry." He added that many people who are qualified to drive are not necessarily "book smart" enough to get through the testing. Some drivers from other states come to Texas with experience but not the desire to go through the required book work. "Some of those guys have been working 10 to 15 years, then they come to Texas and fail this test. But they know what they're doing and have a great safety record."
How can the propane industry bring in more young drivers? Dixie Gas & Oil is increasing its focus on training drivers to get certified to drive a tank vehicle and a hazmat vehicle. His company is fortunate that Blue Ridge Community College operates a truck driving school next to his office as part of its workforce development program, and the driving school covers bobtail-sized vehicles. "It gives us an added level of confidence that they have been trained properly on the DOT requirements and we can then concentrate on propane-specific training," Earhart noted.
Continuing Regulations: Time-Consuming for Marketers
Earhart and several marketers mentioned increasing regulations as a top issue they see at their companies and the overall industry. "A lot of the time I used to spend doing business development I now spend making sure we're compliant on all these different levels, especially the [California Air Resources Board] issues, and those are pretty far-reaching into our business," said Jill Hopkins of Sheldon Gas Co. (Suisun, Calif.). Earhart mentioned hours of service and bobtail requalification as two regulations issues the industry is confronting, although he added that the bobtail requalification issue "is going to be pretty easy once we get that worked out." Soon after he spoke to BPN, the National Propane Gas Association (NPGA) announced that on July 8 it received formal clarification from the Pipeline & Hazardous Materials Safety Administration (PHMSA) on several key aspects of the final rule to extend the hydrostatic pressure test requalification period from five to 10 years for certain types of bobtails (see p. 10).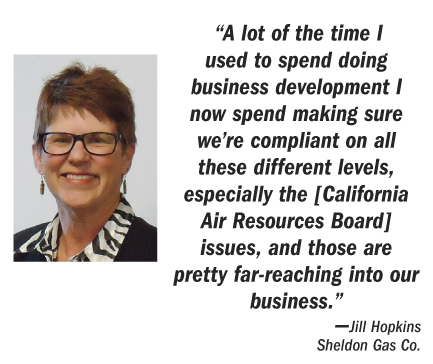 Brick, who is NPGA chairman-elect, notes that the volume of regulation and compliance issues he addresses as part of NPGA's Governmental Affairs Committee is sometimes overwhelming. He is concerned about OSHA's crane operator certification requirements, which include a provision for crane operators to be third-party certified if operating a crane in construction applications. He is against the current language of the rule that requires the same certification to operate a two-ton crane as for a 200-ton crane.
"There's quite a difference," he noted. "I don't think they should have to be sent to a multi-day school for a certification they need just to operate a stick crane on the back of a truck. All we're doing is lifting something off the truck and putting it on the ground, or lifting it off the ground and putting it back in the truck. We're not trying to build a building or trying to set anything on top of a building."
Brick is pleased with NPGA's work on issues such as the crane rule and bobtail requalification and that the association is acting as a watchdog on these issues, which he noted could be detrimental to marketers if NPGA was not watching out for their interests.
Growth and Selling Propane As a Value-Added Product
Marketers should become more involved in growing their businesses and not depend on NPGA, PERC, or equipment suppliers to do it all, Earhart said. Marketers continue to just steal each other's customers to grow, he added. New generations of prospective propane customers who don't understand the benefits of propane are coming, and marketers must educate them, or the market will shrink. He believes that although propane is a versatile product, it has always been a "value-added" product. If marketers do not sell the added value, people won't buy it.
As an example, Earhart noted that some builders in his area are only looking at the upfront cost rather than the long-term value. The problem with that is that after the homeowner moves in, he or she sees that the heat pump does not provide the expected warmth, or the water takes a long time to heat up.
"And after a few years, they have a big bill to replace it because there's a lot of moving parts in it," he explained. Propane marketers can communicate that if the customer makes the investment up front, he or she can get a dependable, quality product. "We have to go out and sell the potential benefits to the customer. Somehow we as an industry are going to have to ramp up our efforts to sell our product. If we don't tell the customer our story, promote our story, and sell our product, it won't get told."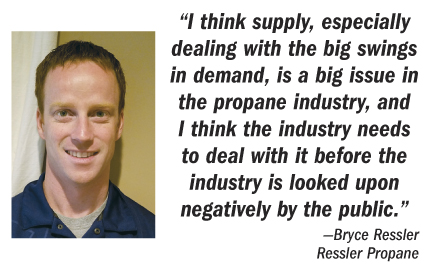 Ressler agreed with Earhart, describing it as "cannibalizing—that's not the best term—each other's customers as opposed to growing new business." That does not grow the industry because it simply involves switching the business from one competitor to another. Ressler also sees a problem with customers switching propane providers because of dissatisfaction with the original provider. That dissatisfaction typically carries over to every provider in that particular industry, he said. His company competed with about 10 companies 20 years ago. Now the number of competitors is around 40.
The only way the startups can gain any ground "is to low-ball in price and create more dissatisfaction in the customer base," Ressler noted. "Creating a satisfied or happy customer is the goal, and hopefully our industry can work together to better our image."
Natural Gas Expansion Continues as a Big Issue
Many marketers like Brick of North Star Energy say natural gas expansion efforts around the country will continue. Recent efforts to expand natural gas lines have not affected Brick yet in South Dakota, but he sees it coming. "My neighbors in Minnesota are knee-deep in it right now," he said, adding that the natural gas industry's expansion efforts come in the form of performing a study of unserved and underserved areas or proposing legislation that claims to be an effort to rebuild infrastructure but in reality is an effort to expand to rural territories. "It is now, and is going to be in the future, a huge issue for propane marketers," Brick noted. "It's troubling. We're going to have a tough time with these folks."
Ressler believes the natural gas industry should be allowed to seek business wherever it wants, but the way the natural gas industry is going about it is not free enterprise. "A lot of expansion is government-driven, and that concerns me. I'm not saying we shouldn't have expansion of natural gas, because I'm all in favor of cheaper supplies of fuel. But at the same time, we need to examine and hold accountable these regulated industries and make sure they are not paying for gas line expansion on the backs of their rate base or in disregard to the existing laws."
PERC's Consumer Education Campaign
The new consumer education campaign of the Propane Education & Research Council (PERC), featuring a dog named Blue as a "spokesperson," is underway, and comments from the industry have started coming in. A July PERC Update email included an item titled, "Marketers Embrace the Campaign," with representatives from Paraco Gas, AmeriGas, and Growmark among those complimenting the new program.
"Paraco is extremely excited to support this campaign. We have already started marketing 'Blue' at a few of our locations," Michael Gioffre, president of Paraco Gas and a former PERC consumer education advisory committee chairman, was quoted as saying.
But Jeff Stewart of Blue Star Gas wants to make sure that the council keeps up the momentum on its product commercialization efforts, which accelerated after the U.S. Department of Commerce (DOC) placed a restriction on the council's consumer education program. DOC lifted the consumer education restriction last year.
"We should continue commercialization of new products, where we can continue to have more burner tips in homes so we can make up for the continued [increasing] efficiency of appliances that continue to degrade our residential gallons," Stewart said.
Stewart believes the $10-million funding amount allocated to the new consumer education campaign is "very challenging to do a successful broad-based awareness campaign with Blue." He wants to see a "very focused tactical marketing plan that is focused on the plethora of new products we have in the marketplace through PERC's commercialization efforts of the past 10 years. If we as marketers could really execute on getting those products into the marketplace and implemented widely, that is the best thing we could do," he commented. "Product education of marketers coupled with a tactical marketing campaign will provide a greater return by adding measurable gallons. That is not going to happen with Blue. If we had $25 to $30 million, that would be a different story."
Supply: Good and Bad News
Brick has heard concerns on whether inventory levels of propane will be adequate to get through next winter, especially with exports increasing. "There is a lot of concern among marketers, what happens to the price if we again run short of propane for some reason or if too much is being exported, where is the stop-gap on this so consumers don't get hit so hard?"
But Ressler sees the current strong propane supply levels as good news at the moment. "I think we're going to have good supply in the three-to-five-year range. I don't see us being more expensive than [electricity]. We can be competitive against some of the other energy sources."
—Daryl Lubinsky