Now that the propane industry has survived another winter season, marketers can take a breath, get organized, and begin making sure their propane supply is stocked up for the next cold weather season. For Tim Spicer, vice president of propane operations of Foster Fuels (Brookneal, Va.), ensuring his company's safety and compliance programs are up to date is a main area of summertime focus. The company has begun implementing a program to track and replace customers' tank regulators according to the regulator manufacturers' recommendations.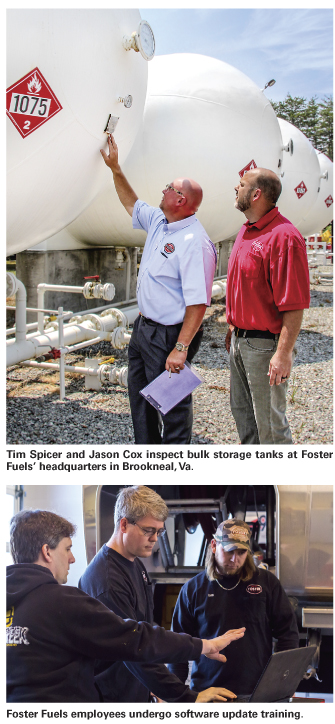 Foster Fuels, which is in its third generation of family ownership and has been in business since 1921, sells gasoline, kerosene, diesel, ethanol, fuel oil and transportation bulk fuel in addition to propane. It has an emergency fuel services division that responds to situations all over the U.S. and internationally. The company covers central to southern Virginia and will open its fifth location in Charlottesville, Va. this summer. The business uses software to track customers' propane regulators based on the customers' anniversary date and information on their GASCheck form. If a regulator has been in service longer than the manufacturer recommends, Foster Fuels replaces it.
Spicer has been implementing safety programs like those for quite some time. He won the National Propane Gas Association's (NPGA) individual safety award in 2008 for his efforts in overseeing safety programs for the Virginia Propane Gas Association (VAPGA).
In addition to tracking regulator safety, he and his team at Foster Fuels take a close look at various aspects of the company's operations to make sure the business operates as safely as possible.
"These are good things to focus on now that the season has [wound] down and we have a little breathing time before heating season is upon us again," he said.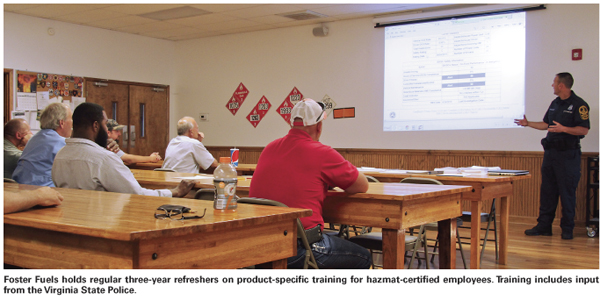 Track Regulators
From a liability standpoint, Spicer describes regulators as the "low-hanging fruit" that is often the first place litigators look when deciding whether to file a lawsuit after an incident occurs.
Regulator manufacturers recommend different replacement times, with the norm being somewhere between 15 and 25 years, Spicer noted. A 26-year-old regulator in the right environment might operate just fine. But the regulator is an easy target in the case of an accident when other grounds cannot be determined. Many times all that is left of the regulator is a melted chunk of metal that cannot be tested for its performance, and in some cases is completely gone, Spicer noted. A lawyer might say, "The regulator is out of date. That has to be the reason for the incident. We have a lawsuit."
The company has begun tracking replacement times for all regulators of its existing and new customers, replacing the regulators when necessary. "It's given us some good liability protection and it is the right thing to do for our customers," Spicer explained.
Look for Changes
In addition to checking regulators, Foster Fuels keeps busy in the summer making sure other aspects of its operations are safe. Spicer asks the drivers and sales and service staff to keep an eye out for installations at customers' sites that might have changed from being in compliance with code to out of compliance. An example would be if a customer installed a window air conditioner closer to a propane tank than code allows.
He tells employees to report such issues back to the office. That is especially important if an incident occurs later. If the marketer has knowledge about the improperly placed air conditioner, for example, and continues to service the tank and an incident occurs, the marketer could be held liable.
To help staff members keep a sharp eye out for changes in conditions, proper training is a must. Foster Fuels uses the Propane Education & Research Council's (PERC) Certified Employee Training Program (CETP) and VAPGA materials for its in-house training. Spicer notes that CETP training also counts toward required classroom hours to sit for the journeyman's test for a propane gas fitter's license. The majority of Foster Fuels' service techs hold this license. "We have made this a company priority from day one when a service tech is hired." Foster Fuels encourages its drivers to also obtain their gas fitter's license.
Review Duty to Warn
Foster Fuels uses the non-heating season as an opportunity to review its duty-to-warn procedures. The company uses the duty-to-warn material from PERC, and Spicer believes it is the most current information available and has undergone extensive legal review. But Foster Fuels takes the distribution of the materials further than the once-a-year distribution that many marketers follow.
It gives the PERC materials to every new customer and provides duty-to-warn information on every delivery ticket and invoice, along with any type of service billing. Foster Fuels' more frequent notices will help in the event of litigation and keep consumers informed.
"By putting them on our delivery ticket and every service billing, we're providing that information every time we have a transaction with that customer," noted Spicer, who has served as a past member of the Propane Defense Association, in addition to past president of VAPGA and current director to the executive committee of VAPGA. If a customer in a courtroom setting says he did not see the duty-to-warn materials, the marketer can show that the materials were included each time propane was delivered to the customer. Foster Fuels also sends out the notices in Spanish.
Check Plants
Every summer, Foster Fuels' propane employees check pumps, compressors, and belts at the Foster Fuels propane plants. Spicer asks attendees of his safety seminars, "When is the last time you checked your belt on your compressor?"
"January is not a good time for that belt to break," he stressed. A little maintenance can go a long way toward preventing problems that could come up during the time of year when your focus is on delivering gas, not plant maintenance or repairs.
Also, summer months are prime time to invite local emergency responders to visit Foster Fuels' propane plants. Spicer wants meetings with first responders to take place before the need to call 911. Foster personnel show the responders where the safety valves, fire suppression systems and other equipment are located. As he mentioned earlier about looking for changes at the customer's location, changes also occur at the marketer's plant. Responder staff members also change, so periodically updating new responders on the equipment at the marketer's plant is very important.
Route Efficiency
During the summer, special focus is given to determine which accounts need adjusting, such as those that use propane for cooking only, and receive propane deliveries only once or twice per year. His team then works to determine how to deliver to those accounts during the slower summer months. A software program helps with that task, but Spicer notes the human element should not be removed.
"If you work an account once a year, you want to work it in July, not January," he said. Route efficiency relates to propane safety because more efficient working conditions help technicians and drivers who are working in the field focus more on the job of safely installing and servicing propane equipment.
"Our drivers' workload during the winter months can be tremendous," Spicer explained. "Anything we can do — office staff, personnel, dispatch, or managers — to diminish or lessen the load on them during the winter months is helping those guys out. It's all part of good teamwork."
Summertime is a good time to review your paperwork, including items such as tank documents, GAS Check forms, legal documents, and any other documentation between the company and the customer. That again relates to changing conditions. "What's current today is dated tomorrow," Spicer emphasized. The days of completing a task and forgetting about them are gone. "Our industry requires constant attention to detail for best business practices and consumer safety."
Texting while driving is a good example. A dated driver manual might not address texting or smart phones. Spicer and his team use the summertime months to review any new regulations that require the company to improve liability protection and to better serve customers to ensure most up-to-date compliance procedures, "not only on safety but also on exceptional customer service and to be good stewards of our industry."
Tank Maintenance
The company takes advantage of the summer months to make sure customers' tanks are well-maintained. That could be something as simple as painting aboveground tanks.
"It protects our investment in our steel on the tanks we own," Spicer noted. "It extends longevity of the tanks. It also helps your company image and our industry's image. A rusty propane tank doesn't reflect well on our industry. To us, image is very important. If we have a tank that is not up to our standards, we're going to perform the necessary work to bring it up to our standards and make it look professional and presentable because it has our name on it. It's a representation of who we are." —Daryl Lubinsky